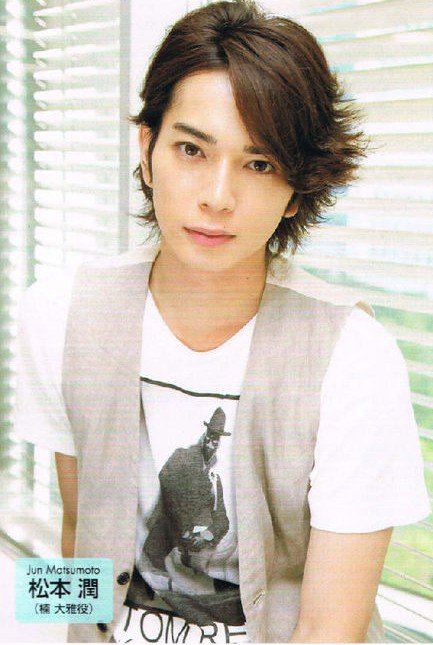 A member of Morning Musume, Michishige Sayumi appeared on the "Mannequin Five" corner of Arashi's variety show on June 17th.
Mannequin Five is a part of "Himitsu No Arashi-chan," in which the guests give comments on Arashi members' fashion.
The theme for the recent episode was flower print fashion, and Sayumi gave bitter comments to the members.
"I don't like your pose, especially when you put your hand in your pocket and try to look cool," and "That is okay, but you look tired."
When Matsumoto Jun came out, Sayumi's comments got even harsher.
"You have very gaudy face, and this flower cloth makes you even more flamboyant. You don't know yourself well. Moreover, it's just too much."
In the end, Sayumi picked Matsujun as "NO WAY" fashion.
After the bitter comments, Matsujun screamed "This is not about the face!!!" with a bitter smile.
When this show was over, Sayumi received over 5,000 comments on her blog, and some of the comments were a little harsh.
"Who do you think you are?", "You know nothing about fashion", "I felt bad for Matsujun", and so on.
Although Sayumi is known for her bluntness, her comments made some Arashi fans quite upset.
*parerea personala : i-as arata eu moda la tipa asta
si dupa toata lumea ar fi spus no way despre ea, O.O sa ne scuteasca de pareri personala...adica ii convine ca se duce la ei la emisiune dar dupa ce pleaca ii critica
_________________
To the top To the top To the top, come with me
The memories that were carved haven't faded yet
Just giving yourself up to these days that are rolling by
This beating heart is searching for something It's still shaking even now
Even if what you see on the other side of the sky is an endless pain
We don't need the words that are always here
Every day, every night, every time, always That's right
With unshakable feelings
Our voices from those days are calling
To that tomorrow, it starts moving
You can hear it too, right? We don't need a reason
Surely, there isn't only one answer
There's a place we'll get to someday
If there's something I'm proud of So that it'll get to you
I'll go to a world I haven't seen yet